---
Fall 2018 Musical Theater Classes
The Park Cities Players program focuses on teaching Improvisation, Acting, Cold Readings, Singing, Movement, Stage Directions and Confidence Building! The Fall Classes are a fun, challenging 10-week musical theater scene and study program for boys and girls, grades 3-8.
For families, we offer a 5% discount. Please contact Frances Cope for the discount code BEFORE registering online.
Classes: choose either Tuesdays or Thursdays
Tuesdays, August 28-October 30
4:30-5:30 pm: Incoming 3rd and 4th graders
REGISTER NOW
5:30-6:30 pm: Incoming 5th and 6th graders
CLASS FULL
OR
Thursdays, August 30-November 1
4:30-5:30 pm: Incoming 3rd, 4th and 5th graders
CLASS FULL
5:30-6:30 pm: Incoming 6th, 7th and 8th graders
REGISTER NOW
Cost: $250
Please do not register for anyone outside other than your own family!
If you have questions, please email Frances Cope at [email protected], or call 214-224-2633.
---
Faculty
Laurie Hargrave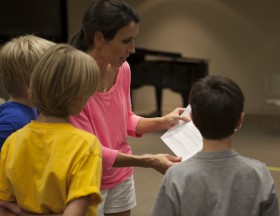 Laurie Hargrave is excited to be a founding member of the Park Cities Players. Laurie performed professionally in NYC for over a decade and relocated to Dallas with her husband, Taylor, and two beautiful children, Hunter and Atlee, two years ago. Laurie has traveled to 48 out of 50 states performing in the 25th Anniversary National Tour of "Evita" (directed by Harold Prince), the National Tour of "Camelot" and "The Pirates of Penzance". Laurie performed in the original production of "They All Laughed" at the Goodspeed Opera House, "A Little Night Music" at Sacramento Music Circus and The Bristol Riverside Theater. Her favorite performance to date… "The Pirates of Penzance" at City Center in New York City, where Laurie met her husband, Taylor. He was playing a ruthless pirate while she was playing a damsel in distress, they have been married for nine years. Laurie graduated from the opera program at Indiana University with a Bachelor of Music in Vocal Performance.