Congregational Meeting for the Election of Officers, Class of 2022
The Session has approved the Congregational Meeting for the purpose of electing elders and deacons for the Class of 2022. Candidates have successfully completed the officer training classes and have been approved by the Session. PCPC members must be present to vote. Photos and profiles of the candidates will be published in February issues of ThisWeek and eThisWeek.
Florida Trip 2018
All incoming 9th-12th graders - Join us in Panama City Beach, Florida, for an incredible week of fun, sun, worship, and teaching.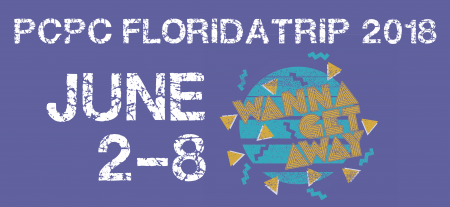 Movement Day
The mission of Movement Day Greater Dallas (MDGD) is to unite the body of Christ around a common purpose in order to achieve measurable progress against the greatest spiritual, social, and humanitarian challenges facing the city.
All-Church Prayer for Our Children
The Elders of PCPC invite you to come for prayer for your children or grandchildren (young or grown). During the service, there will be a time for each family to privately and confidentially share your requests with an elder and have that elder pray specifically for your children or grandchildren. Please join us as we engage in the most valuable thing we can do for our children!
Come to the Table
We invite you to Come to the Table as a community of women who yearn for more of Christ and an understanding of each other.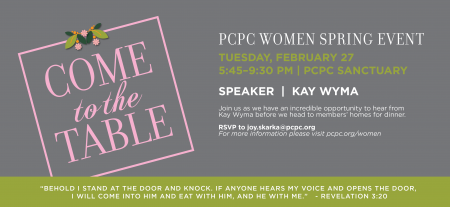 [email protected] Speaker Series Featuring J.A.C. Redford
J.A.C. Redford is a composer, arranger, orchestrator and conductor. He will be speaking on his life as a Christian intersecting with his work as a composer of musical scores for film, TV, orchestra and theater. Lunch will be provided, donations accepted.
Homing – Spring Choral Concert
The adult, youth, and children's choirs of PCPC, with a symphony orchestra, will present J.A.C. Redford's beautiful Homing, the sublime Requiem of Gabriel Fauré, and the passionate and triumphant Symphony No. 3, "Organ" by Camille Saint-Saëns, with former PCPC music director, Colin Howland on the organ.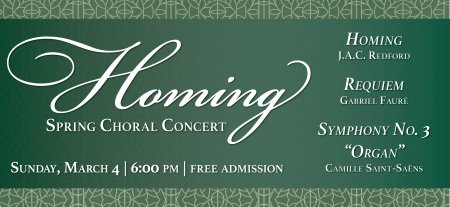 Hurricane Harvey Relief Volunteer Opportunities
Please sign up to register as a Harvey Relief volunteer! We are looking for people to give their time, talent, and resources to help with building sheds for families in South Texas, and also to take part in a short-term Extend trip to Houston where we will assemble the sheds for families in need.
Subscribe to eThis Week
Sign up for PCPC's eThis Week and get all the upcoming PCPC news including updates on our EXTEND Campaign.