Officer Recommendations
The Session has approved May 1–31 for members to submit recommendations for the offices of deacon and elder.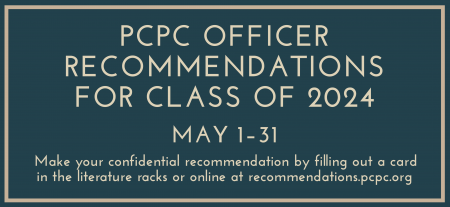 Men's Tuesday Morning Bible Study
This study is open to men of all ages, in all places of their spiritual journey. Join us for great teaching, table fellowship, coffee, and donuts.
The World at Our Door: A Summer SMC Series
Did you know that more than 230 native languages are spoken in the DFW metroplex? And did you know that the Texas university with the largest population of foreign students is UT-Dallas? Truly, the Lord has brought the world to our door. Come hear partner ministries open God's Word to explore our calling to "tell the nations" when the nations are our neighbors.
This 6-week summer series is open to all and you can attend at either 9:30 or 11:00 a.m.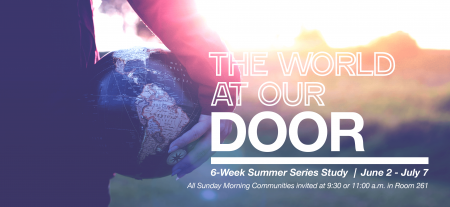 Missionary Commissioning Luncheon
Join us to celebrate Kelly as she prepares to move to Cyprus to serve with Trans World Radio and Claire and Dave as he has already begun serving with East West Ministries from Dallas as Associate Region Director for East and Southeast Asia, and Celeste and Steve Tenpenny as he serves at Casa del Lago in Dallas as the Director of Adult Education. They will be commissioned in worship that morning as PCPC Home Church Missionaries.
Lunch provided, donations appreciated. Please RSVP.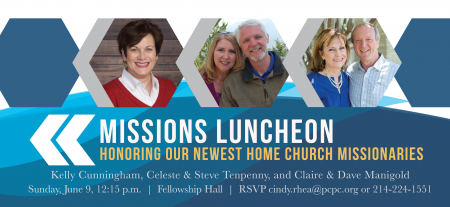 "Tackling Fear and Worry" - A Summer Study
Do you struggle with fear and worry, or have a friend or family member who does? Join us for this 6-week summer series by walking through Ed Welch's book, "Running Scared – Fear, Worry, and the God of Rest." Register by contacting Pat Hobin.
2019 PCA General Assembly
The Presbyterian Church in America (PCA) General Assembly is the largest annual gathering of the denomination. Church leaders from across the country gather to discuss matters important to the life of the church, make decisions that affect the whole denomination and the progress of the gospel.