Women's & Men's Fall Bible Studies
Wondering what our church is doing for adult Bible studies this fall? We are excited to announce we are all studying the miracles of Jesus. Tuesday Men's Bible study will be led by Paul Goebel and other godly men. Women's Bible studies will consolidate, meet on Wednesdays, and have a different teacher each week. The teachings will be live streamed, recorded, and posted on our church website along with a study guide. Small groups will meet virtually and off campus, as appropriate. There is no fee for this study; however, you do need to register. Registration opens mid-August, and the studies begin September 15-16. Join us and find your hope renewed in Christ Jesus as we study His miracles all together this fall!
Contact Leslie Newman for questions about Women's Studies.
Contact Elaine Montague for questions about Men's Studies.
Women-Bible Study Registration
Fear & Worry Part 2 | Virtual Summit
Do fear and worry prevent you from enjoying the rest that God has promised? Join us for our Part 2 Virtual Summit as a follow up from when Dr. Ed Welch was here in October of 2019. Come learn more about fear and worry and how to live the life God has called us to live and to which has so graciously provided for us with a panel discussion hosted by the PCPC Counseling and Care Ministry.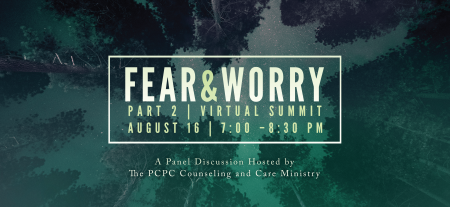 International Student Welcome Parties
Welcome new International Students to SMU! Join with RUF International to welcome new students with the love of Christ. Things look a little bit different this year but we have two days of volunteer slots (Friday August 21 and Saturday August 22) that are strategic opportunities to partner with RUF-I staff and begin building new friendships.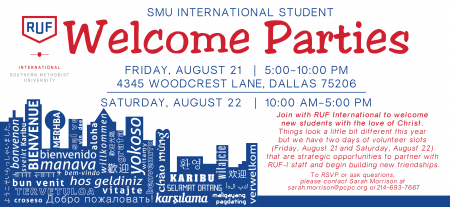 Work Disruption
Missy Wallace, Vice President and Executive Director of Faith & Work at Redeemer City to City, will lead a webinar through a tool designed to help leaders better understand the disruption that is taking place and how to care for those who have experienced work disruption from the COVID-19 crisis. This tool will help you identify the different categories of work disruption and anticipate the needs of those in each group.
COVID-19 Updates
With all of the recent news on the Coronavirus, we would like to echo the CDC's recommendations for preventing the spread of germs and remind you of PCPC's policy concerning sickness. Since this is an ever-changing situation, we have created a webpage to help keep the information up to date as well as show ways that PCPC is responding to the needs and opportunities within the community.
Meet & Pray for Our Missionaries
We now have our Summer PCPC Missionary Prayer Requests available to you on our PCPC website!
To download the online version of Summer 2020 - Missionary Prayer Requests go HERE This version is easy to read on your phone!

To look up your favorite missionary to find his or her prayer requests go HERE.

This summer, the PCPC Daily Prayer Guide has one missionary prayer request for each day. You can find it on the PCPC app or HERE.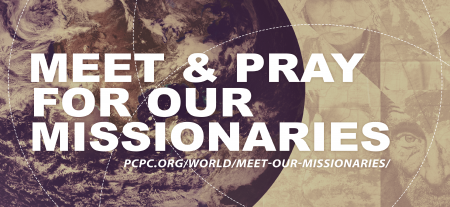 PCPC Kids
As we go through this turbulent time, our Children's Ministry staff along with key volunteers are working diligently to provide resources to you and your family.