Poinsettias in the Sanctuary
Each Christmas season we offer PCPC members the opportunity to purchase a poinsettia ($9.00 each) in memory of or in honor of a friend or loved one. They will be in the sanctuary Sunday, December 8.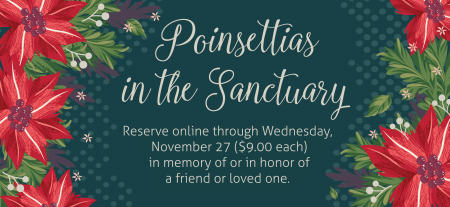 Cans for Boxes of Blessing 2019
Drop off CANNED VEGGIES from November 11-December 2, in preparation for our Boxes of Blessing packing day taking place on Saturday, December 7. Donation boxes may be picked up at locations around the church and dropped off in the Boxes of Blessing trailer behind Oak Lawn West or in the elementary wing.
International Student Thanksgiving Dinner
Come help us introduce international students from SMU to an American-style Thanksgiving dinner and build new friendships! We'll have fun, fellowship, and line dancing. Sign up to bring food by clicking the Food Sign Up button. We need people to bring turkey, sides, bread, and dessert.
Family Advent Service
PCPC Children's Ministry invites you to celebrate the Advent season as a family! On Sunday, December 1 we will host an evening of fellowship, fun, and worship geared for the whole family. We will have a special, family-friendly interactive service in the Sanctuary, starting at 4:30 p.m. The service is followed by dinner at 5:15 p.m., fellowship and crafts in the Fellowship Hall. Dinner is at no-cost to families.
Women's Advent Prayer
Join us for a time of prayer and worship of Christ our King. As we set the tone for the season through our time together, we will be reminded yet again of the hope that is ours in Christ, and our hearts will be filled with joy! We long to worship Him with new passion this Christmas!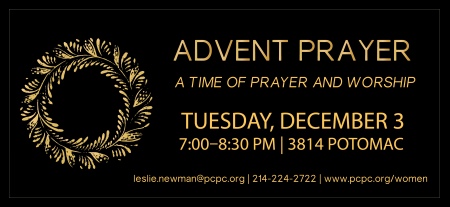 Senior Adult Christmas Luncheon & Concert
All are welcomed to enjoy lunch by Festive Kitchen followed by Jenni Rasberry and her talented vocal studio who will bring us a lovely, inspiring Christmas concert.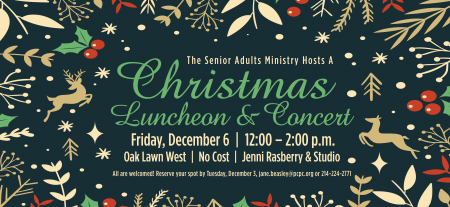 Boxes of Blessing
Mark your calendar for our annual Boxes of Blessing Packing Day! Bring your family, small group, and friends to help us extend the Kingdom of Christ to our city by filling 10,000 boxes of food.
Preschool Advent Song & Story
We will sing songs, celebrate Christ's birth and lunch will be served at no cost! Friends and families are welcome to join too! Please park behind Oak Lawn West and enter through the doors facing Oak Lawn Avenue. If you and your family would like to attend, please register.
Rejoice! Christmas Concert
Let the joy of Christmas fill your hearts at this musical celebration of the nativity of our Lord. Always a favorite, PCPC's annual candlelight concert features the children's, youth, and adult choirs with symphony orchestra.