High School Florida Trip
All incoming 9th-12th graders - Join us in Panama City Beach, Florida, for an incredible week of fun, sun, worship, and teaching.
Church in the City Luncheon
Using Rosaria Butterfield's book, The Gospel Comes with a House Key, as a launch point for our lunch discussion, join current PCPC members who use their home as a place to further God's Kingdom by welcoming in those who look, think, believe and act differently into their everyday lives—helping them see what true Christian faith really looks like.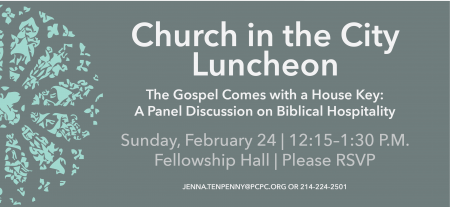 Dr. Nathan Davy Organ Concert
PCPC's Organist, Dr. Nathan Davy, presents a solo recital of masterpieces for the pipe organ on one of the most beautiful instruments in the Dallas area, located right here in out Sanctuary. Admission is free. Doors open 30 minutes prior to the concert. An offering will be taken to support future Performing Arts events
[email protected] Speaker Series: Featuring James K.A. Smith
What do you want? James K. A. Smith argues that this is the most fundamental question for Christian discipleship. In this Church in the City lecture, Smith will present a compelling case for worship as the central act for cultural renewal.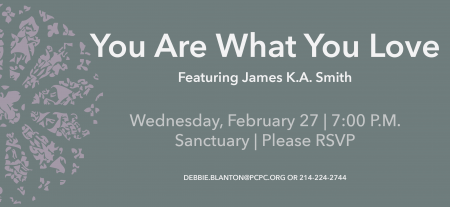 Spring Silent Retreats
A silent retreat is an extended time in which an individual seeks to be alone with the Lord to listen and be transformed by His Word and Spirit. Spots for the Men's Retreat are still available to Sky Ranch in Ute Trail, CO. The Women's Retreat is full, but there is a waitlist.