Welcome to PCPC Women!
We are glad you're here! To keep up to date on our latest events and programs, follow along with our social media! We will continue to update this page as changes occur.
YOU are loved by God and us!
If you need prayer for any reason, please contact PCPC Women.
It is our privilege to love and serve one another because of the incredible grace and love we have in Jesus!
"May the God of hope fill you with all joy and peace in believing, so that by the power of the Holy Spirit you may abound in hope." Romans 15:13
---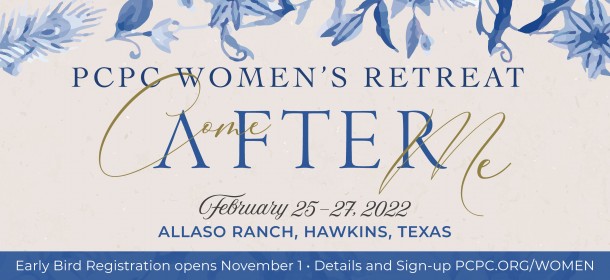 Come After Me: Women's Retreat 2022
Friday-Sunday, February 25-27, 2022 | Allaso Ranch, Hawkins TX
Join us for a relaxing getaway with women from our church family. Enjoy worship, teaching, meals, and time with the Lord at the beautiful Allaso Ranch in Hawkins, Texas. Early-bird registration is $225 starting November 1 and $250 after November 30.
Registration link coming soon! For more information please go HERE.
---
We hope you will join us for Women's Bible Studies this fall. We have many options of time and day, and one of them is just right for you! If you need to participate via Zoom this fall, please contact PCPC Women or our office by phone. We can help you find out which options work for you. We look forward to growing in Christ and connecting with you through the study of God's Word. Visit the pages marked in blue below for details on each study and to sign up. Childcare is available by reservation only for the daytime classes for children birth-k.
Water Damage Room Reassignments
As many of you already know, our building suffered a significant water leak last Friday night. Several areas have sustained water damage including many of the rooms we use for Bible studies throughout the week as well as the Nursery hallway. Therefore, we have made arrangements for your group to meet in a new room until the cleanup and repairs are completed. All childcare dropoffs will be at the Preschool area for the time being. Please be in prayer for our Facilities staff and the ministries affected.
See the list below for where your Bible study is meeting this week. Stay tuned for more information from your small group leader.
Tuesdays:
Precepts A.M. - Classroom 8 (Lower Level; normal meeting room)
A Mother's Heart - Classroom 9 (Lower Level)
Precepts P.M. - Classroom 1 (Lower Level; normal meeting room)
Wednesdays:
Early Morning Bible Study - Classroom 9 (Lower Level)
Wednesday Watchmen - Cambridge Hall (Level Two)
Young Women's Bible Study - Oak Lawn West (Main Meeting Room)
Focus - Classroom 9 (Lower Level; normal meeting room)
Thursdays:
Thursday Morning Bible Study - Classroom 9 (Lower Level; normal meeting room)
---
Bible Study Options for Women and Audio Archives
---
---
---
---
---
---
---
What's Coming Up?
November 1 - Retreat Early Bird Registration Opens
November 30 - Women's Advent Prayer
---
Need Pastoral Care or Counseling?
---
Follow PCPCWomen on Facebook, Twitter, and Instagram!
Sign-up for the PCPC Women's Email List