"And they devoted themselves to the apostles' teaching and the fellowship, to the breaking of bread and the prayers." Acts 2:42
---
"We love because He first loved us." I John 4:19
YOU are loved by God and us!
If you need prayer for any reason, please contact PCPC Women.
It is our privilege to love and serve one another because of the incredible grace and love we have in Jesus!
---
Holy Week Meals with a Message
This Holy Week, the current situation in our world has required all of us to make temporary adjustments to our lives.
In lieu of the traditional Holy Week lunches that follow our daily services, we are so excited to partner with Festive Kitchen and create an opportunity to love our neighbors.
On Tuesday, Wednesday and Thursday of this week we will offer meals for $10/each. They will be available at the church for contactless pickup from 10:30-11:30 a.m. The meals will come with information about PCPC's online services during Holy Week. If you feel the Spirit lead, the meal could be paired with flowers, an additional note or whatever else.
Our vision is giving the church body an opportunity to provide a great meal for a neighbor and an invitation to join our church body in reflection and celebration of our Savior's resurrection.
Instructions for pick-up
Drive up to the porte-cochere along Oak Lawn Avenue and someone will be at the curb to ask you how many meals you would like, as well as take payment. They will hand the meals in through the passenger side window. Proper safety precautions will be taken.
Menu:
Tuesday, Quiche Spinach Salad Pecan Muffins
Wednesday, Pasta Salad with grilled Chicken Caesar Salad Cookie
Thursday, Turkey, Pesto and Provolone Sandwich Mixed greens Salad Dessert Bar
We invite you to join us in this wonderful opportunity to be a blessing to those around us!
---
Women's Bible Studies
All current Bible studies have suspended meeting together for the rest of the semester.
Each of the Bible study teachers will be given the option to record their lectures for our website's audio page. Please go here to find the recordings.
Other planned Bible studies in May are not canceled at this time. We will wait on that decision until further notice.
We encourage you to continue in God's Word and pray for one another and our world while we are not able to meet.
---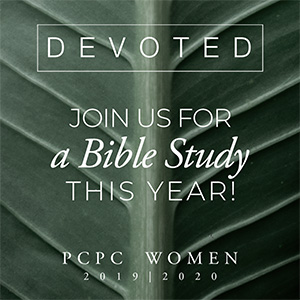 We want YOU to be part of growing in God's family with us this year!
Spring and Summer Bible Studies
Precepts Esther, March 31 - May 5
Early Morning Bible Study, May 6 - June 3
Maymester, May 13 - June 3
SIGN UP HERE FOR PRECEPTS ESTHER
For details on each study, please click the study link below (in blue).

Tuesdays
A Mother's Heart
Precepts A.M. and P.M.
---
Wednesdays
Early Morning Bible Study
Wednesday Watchmen A.M. and P.M.
Focus - Women and Men's Study
Young Women's Bible Study (YWBS)
---
Thursdays
Thursday Morning Bible Study (TMBS)
---
As you enjoy time in a Bible study, we are delighted to encourage your children in the Lord. Children 3 years and older are invited to participate in an in-depth program geared to help them grow in love for God and His Word. The program, led by skilled teachers, includes Bible stories, memory verses, music time, snacks and play. Beyond those activities, the lessons will follow a curriculum that teaches the children aspects of what their mothers are learning in Bible study.
Space is limited, so please consider early registration! Children under the age of 3 will be placed in childcare. Reservations the children's program must be made online in conjunction with Bible study registration.
Questions? contact Leslie Newman
---
What's Coming Up?
March 16-20 - Spring Break, no Bible studies
April 21 - The Bridge, postponed
---
Need Pastoral Care or Counseling?
---
Follow PCPCWomen on Facebook, Twitter, and Instagram!
Sign-up for the PCPC Women's Email List