"Out of the valley of trouble, the LORD will make a door of hope." From Hosea 2:15
---
Welcome to PCPC Women!
We are glad you're here! To keep up to date on our latest events and programs, follow along with our social media! We will continue to update this page as changes occur.
YOU are loved by God and us!
If you need prayer for any reason, please contact PCPC Women.
It is our privilege to love and serve one another because of the incredible grace and love we have in Jesus!
"May the God of hope fill you with all joy and peace in believing, so that by the power of the Holy Spirit you may abound in hope." Romans 15:13
---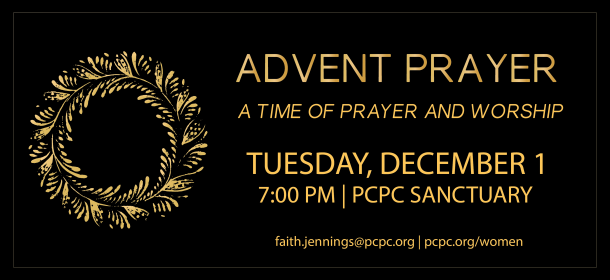 Women's Advent Prayer
Come be a part of this incredible time to focus on our Savior's Incarnation through a short devotional and time of prayer.
We are requiring masks while you are in the building and maintaining a 6-foot safe distance between parties. If you develop any symptoms related to COVID-19, we ask that you abstain from joining us in person for this event.
Please reserve your seat if you plan on attending in person. This event will also be live-streamed to the PCPC website.
Tuesday, December 1, 7 to 8 p.m. in the Sanctuary
---
Women's Fall Bible Studies
Study available on Wednesdays, September 16 – November 18, 10:00 am – 11:00 am

How to access Women's Fall Bible study:
This study will be live-streamed and recorded in video and audio format. You can watch the main lecture for our Women's study HERE, OR on the PCPC mobile app, YouTube, Apple TV app, Roku app, or Amazon Fire app (search Park Cities Presbyterian Church).
You can listen to the audio HERE.
---
Current Lesson
---
November 17, 2020
Lesson #10: Jesus Rises from the Dead
Matthew 28:1-10
Becky Bain
Handout
Women's Bible Study Video Archive
---
We are excited to offer ONE Bible study this fall for all women of any age! We are praying God will unite, encourage, and strengthen us as we worship and study Him through His powerful Word together. Rotation of the PCPC Women's Bible study teachers will be teaching us on the miracles of Jesus. Teaching will be live-streamed as well as virtual. We look forward to meeting in person as soon as we are able! Small groups will continue to meet in person or virtually. If you are new, we will assign you to a small group. We want YOU to be a part of God's growing community with us!
Compatible Children's Program Offered!
Our Children's Ministry is excited to offer preschool lessons, crafts, and activities to complement your study on Signs and Wonders following the same passages you will study as adults! We will provide links each week for you to access the videos online, along with links for songs and supplementary material to use at home. If you register your child(ren) when you sign up, we will provide you with a supplementary material packet to use at home for each child for a small cost of $10 per child for the semester which will be delivered directly to your home. Please be sure to list the names and birthdays of your children when you register. Our teachers will pray for them by name weekly and mention them by name in the videos as they teach over the semester.
---
What's Coming Up?
December 1- Advent Prayer, 7:00-8:00 P.M. PCPC Sanctuary and Online
---
Need Pastoral Care or Counseling?
---
Follow PCPCWomen on Facebook, Twitter, and Instagram!
Sign-up for the PCPC Women's Email List