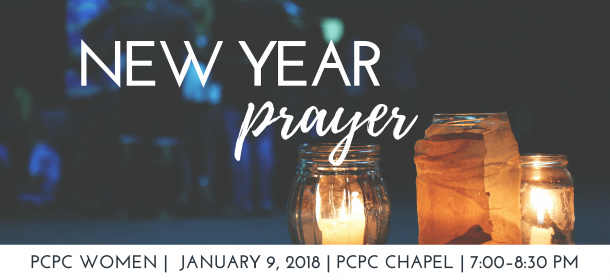 We have great hope that 2019 will be a year we can continue to grow closer to the Lord. Come and pray with us as we reset our hearts the new year. "Therefore, if anyone is in Christ, he is a new creation. The old has passed away, behold, the new has come," II Corinthians 5:17.
Date & Time
Wednesday, January 9
7:00–8:30 p.m.
Location
Chapel
Main Church Building
4124 Oak Lawn Avenue
Dallas, TX 75219
Questions? Please contact Joy Skarka or call 214-224-2526
---
"I am the vine; you are the branches. Whoever abides in me and I in him, he it is that bears much fruit, for apart from me you can do nothing." John 15:5
---
Women's Bible Studies
FOR DETAILS ON EACH STUDY, CLICK THE STUDY LINK BELOW (in blue)

Tuesdays
A Mother's Heart
Precepts AM and PM
---
Wednesdays
Early Morning Bible Study
Wednesday Watchmen AM and PM
Focus
Young Women's Bible Study (YWBS)
---
Thursdays
Thursday Morning Bible Study (TMBS)
---
New Attendees Sign up Here
If you have been attending a study this fall, you do not need to re-register yourself.
SIGN UP HERE FOR WOMEN'S BIBLE STUDIES
As you enjoy time in a Bible study, we are delighted to encourage your children in the Lord. Children 3 years and older are invited to participate in an in-depth program geared to help them grow in love for God and His Word. The program, led by skilled teachers, include Bible stories, memory verses, music time, snacks and play. Beyond those activities, the lessons will follow a curriculum that teaches the children aspects of what their mothers are learning in Bible study.
Space is limited, so please consider early registration! Children under the age of 3 will be placed in childcare. Reservations the children's program must be made online in conjunction with Bible study registration.
Please sign up your children for the Spring semester! All reservations for children birth - Kindergarten must be made by noon, January 8, 2019
---
What's Coming Up?
• Jan 9 - New Year Prayer, PCPC Chapel, 7:00pm • Jan 15-17 - Bible Studies Start (details below)
• Feb 22 - Come to the Table, 5:30 - 10pm, PCPC and Member's Homes
• May 5 - Ellie Holcomb – Concert at the Arboretum (PCPC concert series, Women's and Children's Ministries participating in sponsorship)
---
Need Pastoral Care or Counseling?
---
Follow PCPCWomen on Facebook, Twitter, and Instagram!