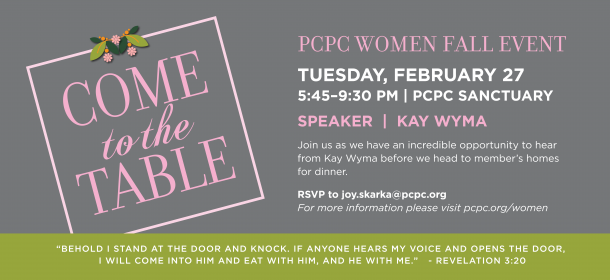 Come to the Table
Tuesday, February 27
5:45–9:30 pm
PCPC Sanctuary and Member's Homes
RSVP if you will be eating dinner to Joy Skarka
We invite you to Come to the Table as a community of women who yearn for more of Christ and an understanding of each other.
Worship and the speaker, Kay Wyma, will be at PCPC and dinner will be together in members' homes.
Here's what you can expect:
5:45 - 6:00 pm - We will begin the evening at PCPC Sanctuary and enjoy a sweet time of worship together.
6:00- 6:45 pm - Kay Wyma will speak on being overwhelmed with Jesus instead of life's struggles and worries.
6:45 - 7:15 pm - Worship and travel time to your designated dinner home. (You will receive your home destination after worship)
7:15 - 9:30 pm - Have dinner in smaller groups hosted by women in our church, and eat around their table.
The service project for this event is collecting specific childrens books to give to CW Sawyer, a ministry of The Bahama Partnership of Christiana and Julian Russell. You may donate a book through our Amazon gift registryHERE.
RSVP if you will be eating dinner to Joy Skarka
Behold I stand at the door and knock. If anyone hears My voice and opens the door, I will come into him and eat with him, and he with Me. -Revelation 3:20
---
Early In the Morning - A Women's Study
We would love for you to be a part of this six-week study "Meals With Jesus", especially if you are not already in a Bible study! A time of teaching will be followed by small group table discussion.This discussion will be a vital part of the morning together. There is no cost, but please let us know you are coming!
Wednesdays, January 31 - March 7
7:00 - 8:15am
PCPC Fellowship Hall
Teachers: Abigail Powell and Kari Stainback and more!
---
Come to Women's Spring Bible Studies!
NEW ATTENDEES ARE WELCOME ANYTIME!
If you are currently in a Bible Study you DO NOT NEED to re-register yourself but you DO NEED TO re-register your child for childcare. All reservations for children birth-K must be made online by noon, Friday, January 12.
For information about childcare reservations, please contact [email protected]
FOR DETAILS ON EACH STUDY, CLICK THE STUDY LINK BELOW (in blue)

Tuesdays
A Mother's Heart
Precepts AM and PM
---
Wednesdays
Wednesday Watchmen AM and PM
Focus
Young Women's Bible Study (YWBS)
---
Thursdays
Thursday Morning Bible Study (TMBS)
---
3rd Tuesday/Thursday
---
Questions about women's Bible study? Please give us a call or email!
Leslie Newman 214-224-2722 or [email protected].
---
---
Follow PCPCWomen on Facebook, Twitter, and Instagram!