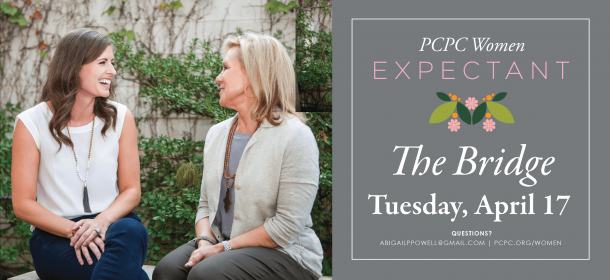 Tuesday, April 17
6:30–8:30 pm
6475 Orchid Lane, home of Laura Wilson
Dallas, TX 75230
Come hear Patti Denman! The Bridge is a coming together of all women to hear of God's hope and grace in the life of a PCPC woman. Join us for a light dinner, fellowship, and a story of encouraging faith. Dinner is $5 and no RSVP is necessary.
Qquestions? Please contact [email protected]
---
Come to Women's Spring Bible Studies!
NEW ATTENDEES ARE WELCOME ANYTIME!
For information about childcare reservations, please contact [email protected]
FOR DETAILS ON EACH STUDY, CLICK THE STUDY LINK BELOW (in blue)

Tuesdays
A Mother's Heart
Precepts AM and PM
SIGN UP HERE FOR PRECEPTS I, II, III John class!
---
Wednesdays
Wednesday Watchmen AM and PM
Focus
Young Women's Bible Study (YWBS)
---
Thursdays
Thursday Morning Bible Study (TMBS)
---
3rd Tuesday/Thursday
---
Questions about women's Bible study? Please give us a call or email!
Leslie Newman 214-224-2722 or [email protected].
---
---
Follow PCPCWomen on Facebook, Twitter, and Instagram!