Come to the Table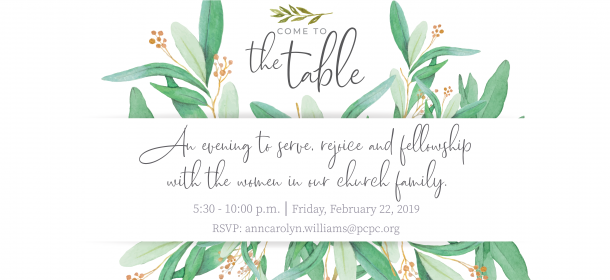 Date & Time
Friday, February 22
5:30–10:00 p.m.
Location
PCPC, Fellowship Hall
4124 Oak Lawn Avenue
Dinner will be in Members' Home (please RSVP below)
You are invited for an evening to serve, rejoice and fellowship with the women in our church family. Join us for a service project honoring Young Lives Dallas, a time of worship, and dinner in a member's home.
Please RSVP if you will be eating dinner to Ann Carolyn Williams HERE
We will be putting together care packages for the teen moms and their children going to Young Life camp this summer with Young Lives.
You can purchase these items on our AMAZON WISH LIST created for this event.
We need as many items as possible to fill the care packages!
We hope to see you there!
PCPC Women
Behold I stand at the door and knock. If anyone hears My voice and opens the door, I will come into him and eat with him, and he with Me.
— Revelation 3:20
---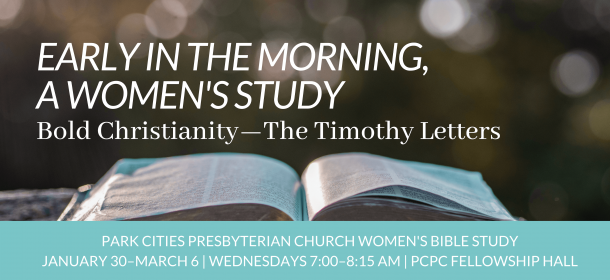 Early in the Morning Women's Bible Study
Bold Christianity—The Timothy Letters
Wednesdays, January 30 - March 6
7:00–8:15 a.m.
Taught by Neatice Warner
Join us for this six-week study, Bold Christianity—The Timothy Letters. A time of teaching will be followed by a small group discussion around tables each week. Come for all or whenever you can!
Please let us know if you are coming.
RSVP to Joy Skarka
"I am the vine; you are the branches. Whoever abides in me and I in him, he it is that bears much fruit, for apart from me you can do nothing." John 15:5
---
Women's Bible Studies
FOR DETAILS ON EACH STUDY, CLICK THE STUDY LINK BELOW (in blue)

Tuesdays
A Mother's Heart
Precepts AM and PM
---
Wednesdays
Early Morning Bible Study
Wednesday Watchmen AM and PM
Focus
Young Women's Bible Study (YWBS)
---
Thursdays
Thursday Morning Bible Study (TMBS)
---
New Attendees Sign up Here
If you have been attending a study this fall, you do not need to re-register yourself.
As you enjoy time in a Bible study, we are delighted to encourage your children in the Lord. Children 3 years and older are invited to participate in an in-depth program geared to help them grow in love for God and His Word. The program, led by skilled teachers, include Bible stories, memory verses, music time, snacks and play. Beyond those activities, the lessons will follow a curriculum that teaches the children aspects of what their mothers are learning in Bible study.
Space is limited, so please consider early registration! Children under the age of 3 will be placed in childcare. Reservations the children's program must be made online in conjunction with Bible study registration.
Questions? contact Leslie Newman
---
What's Coming Up?
• February 22 - Come to the Table, 5:30 - 10pm, PCPC and Member's Homes
• March 6 - Lenten Prayer, noon, PCPC Chapel
• March 26 - The Bridge
• April 30 - The Bridge
• May 5 - Ellie Holcomb – Concert at the Arboretum (PCPC concert series, Women's and Children's Ministries participating in sponsorship)
---
Need Pastoral Care or Counseling?
---
Follow PCPCWomen on Facebook, Twitter, and Instagram!