---
Deborah Waterman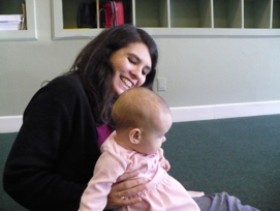 Deborah Waterman, the Coordinator of the Musikgarten program at PCPC, has been teaching Musikgarten for over 10 years. She holds a Music Education Degree from Westminster Choir College and a Masters in Choral Conducting from SMU. She has also taught music education in public and private schools in the area. Deborah has sung with the PCPC Chancel Choir and has appeared as a soloist with the church and currently sings with the Dallas Symphony Chorus. She has three children (who have all taken Musikgarten classes) whom she homeschools.
---
Ben Quine
Ben Quine, originally from Dallas, Texas, began his piano studies with James Bozeman. In 2000, he graduated summa cum laude from Texas Christian University. He has given numerous recitals in the Dallas area and has also performed in Oklahoma, Maryland, Illinois, California, Ohio, Pennsylvania, and Minnesota. From 2000-2002, he studied at the Liszt Academy of Music in Budapest, Hungary as a Fulbright Scholar. There, his teachers included György Nádor, István Lantos, Réti Balazs, and Kiraly Csaba. In addition to many performances in Budapest, he also performed at the European Fulbright Gala in Berlin, Germany. He performed for Mrs. Laura Bush, first lady of the United States, Megyessy Péter, the prime minister of Hungary, and Ms. Nancy Brinker, US Ambassador to Hungary. Mr. Quine completed his Master's of Music degree at the Peabody Conservatory of Music where he studied with Benjamin Pasternack. He served as a Graduate Assistant in Music Theory and was the recipient of the Helen Iliff Scholarship. In 2004, Mr. Quine was selected to be a Fellow of the La Gesse Foundation. As a result, he performed at the La Gesse Foundation Music Festival in Toulouse, France and Carcasone, France. Other recent concert appearances include Capitol Hill Baptist Church in Washington, D. C. and the "Music at CND" Concert Series (College of Notre Dame in Baltimore, Md.). Mr. Quine is currently a freelance artist in Dallas, where he also teaches a private piano studio.
---
Laurie Hargrave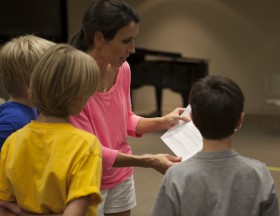 Laurie Hargrave is excited to be a founding member of the Park Cities Players. Laurie performed professionally in NYC for over a decade and relocated to Dallas with her husband, Taylor, and two beautiful children, Hunter and Atlee, two years ago. Laurie has traveled to 48 out of 50 states performing in the 25th Anniversary National Tour of "Evita" (directed by Harold Prince), the National Tour of "Camelot" and "The Pirates of Penzance". Laurie performed in the original production of "They All Laughed" at the Goodspeed Opera House, "A Little Night Music" at Sacramento Music Circus and The Bristol Riverside Theater. Her favorite performance to date… "The Pirates of Penzance" at City Center in New York City, where Laurie met her husband, Taylor. He was playing a ruthless pirate while she was playing a damsel in distress, they have been married for nine years. Laurie graduated from the opera program at Indiana University with a Bachelor of Music in Vocal Performance.
---
Jenni Till Rasberry, Voice Instructor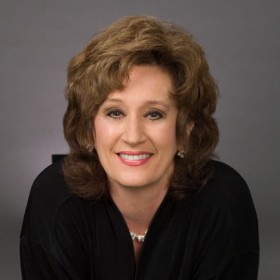 Jenni has captivated audiences worldwide with her superb singing and warm spirit. Her busy concert schedule takes her from churches to concert halls to civic settings, performing repertoire such as sacred literature, classical songs, oratorio, operatic arias and a vast range of classic American songs and the music of Broadway.