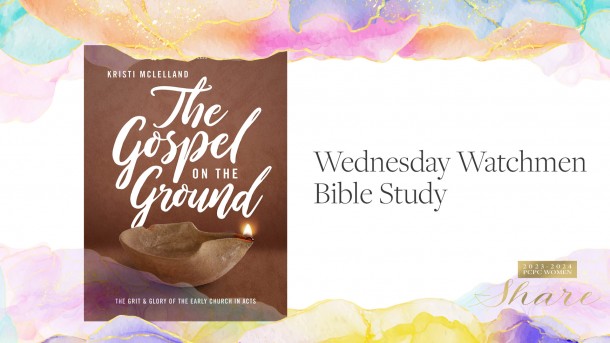 ---
Wednesday Watchmen is a community of women of all ages--young mothers, singles, great-grandmothers, and mid-lifers. Our mornings together have worshipful singing, teaching, and small groups. The small groups discuss the week's Scripture homework and pray together. The weeks alternate between watching a DVD and in-person teaching.
The evening session is similarly worshipful, however, rather than small discussion groups we focus on group prayer so that we are finished by 8:00 p.m.
Wednesday Watchmen Audio Archive
---
What will we be studying this fall?
Gospel on the Ground: The Grit and Glory of the Early Church in Acts By Kristi McLelland
Teacher:
Various
When:
Wednesdays, 9:30-11:30 a.m.
Duration: January 17 - April 24
Location:
A.M. Location: PCPC, Room 9, Lower Level
Materials: $25
NEW ATTENDEES ARE WELCOME ANYTIME!
---
Questions? Please contact Leslie Newman or call 214-224-2722 for more information.