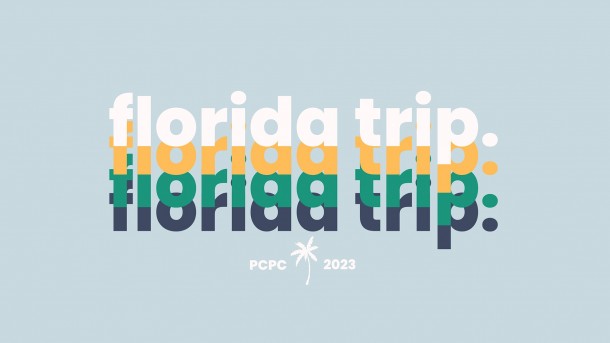 ---
All incoming 9th-12th graders - Join us in Panama City Beach, Florida, for an incredible week of fun, sun, worship, and teaching.
REGISTRATION
PCPC members can register for the trip starting February 21. A private link will be emailed that morning.
Non-member incoming seniors can register February 28.
All other non-members can register March 7.
Registration will remain open until all spots are filled.
Upon registering for the trip, please have the following information ready to go: 2 roommate requests and the grade your child will be in this coming school year. Trip registration will require full payment at that time.
---
TRIP DETAILS
We depart by charter bus on Saturday, May 27, 7:00 a.m., from the PCPC Parking Lot (south of the main building) and return Friday, June 2, during the afternoon.
Students stay in dorm-style rooms with adult leaders and are able to list two roommate preferences in the online registration. They are guaranteed to be with one of their requests.
Parent click HERE for a document on "What parents need to know" from Laguna Beach Christian Retreat Center.
The students will meet twice a day, once in the morning and once in the evening for group meetings. Morning meetings are led by staff and evening meetings are led by our speaker. There is ample time each day for daily devotions and for cabins to meet together to discuss the teaching.
Students will have free time between lunch and dinner to enjoy the beach, the pool, the sun, volleyball courts, etc. Our staff and volunteers also plan various night activities for the group. Staff and volunteers are actively engaged in the students' lives and participate in all activities with students.
A note from Will Washington about cell phones:
With all of the activity, frenzy, and distractions in our daily lives, connecting with one another and with God can become difficult. The purpose of the Florida Trip is to provide that space and environment for students (and leaders) to connect relationally with one another and with Jesus Christ. One way that we will be seeking to encourage that this year is by making a no cell phone policy for the majority of the trip. We will have students give up their phones and any other electronic devices (in an organized and secure fashion) once they arrive in Florida and will have them returned on Thursday night when we depart for Texas. Our hope is that by "getting away" from their phones, your student will discover two things: how freeing it is to be digitally unplugged and how much more in tune they can be relationally with their peers and with God. Your student's leaders will be accessible as will myself and the youth staff at all times if your student would need to be contacted or if you needed to be contacted.
---
PACKING LIST
Bedding: Pillow and your choice of a twin/double sheet, blanket and/or sleeping bag
Clothes: T-shirts, shorts, shower shoes, other shoes, socks, underwear, modest swimsuit (1 piece and/or modest tankinis for girls, no speedos for boys), etc.
Toiletries and any medications
Bath towels and beach towels
Sunscreen
Money for four fast food meals while traveling and for snacks during the trip (There is a little snack shop on the retreat center's property that is open during the day and night.)
Bible and a pen
Nalgene Bottle/Refillable water bottle
---
ALTERNATIVE TRAVEL:
Please do your best to plan around the dates of this trip in order to allow your student to travel by bus with the rest of the group. If valid and immovable plans inhibit them from being able to ride the bus to Florida or back to Dallas, then alternative travel plans must be approved, purchased, and submitted to youthadmin@pcpc.org.
Flights must be booked in and out of ECP Airport and cannot arrive before Saturday, May 27 or depart after Friday, June 2, as that would be before the buses arrive or after they leave. You will also have to secure your student their own ride to and from the airport. Please send flight itinerary and an email confirming that you have booked the proper shuttle for your student.
LEADERS:
PCPC Youth Ministry is in need of volunteers to serve as leaders on the annual Florida Trip, May 27-June 2. The Florida Trip is our biggest outreach to high school students in the Park Cities and a wonderful ministry opportunity to "extend the kingdom" to the next generation right in our own backyard! Note: no prior experience with students is required. Please contact will.washington@pcpc.org for more information.