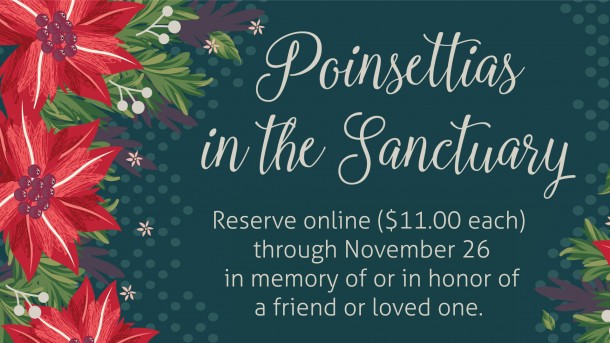 ---
Each Christmas season we offer PCPC members the opportunity to purchase a poinsettia ($11.00 each) in memory of or in honor of a friend or loved one. They will be in the sanctuary Sunday, December 5, and there will be a bulletin insert that morning listing the names of the donor and the recipient. Our chancel area will be wreathed in these beautiful plants for our worship services from Sunday, December 5 through Christmas Eve. You may take your plant with you following the Christmas Eve service if you wish to do so.
Reservations online will close on Friday, November 26 at 10:00 p.m..
Requests received later than November 26 will miss the insert printing deadline.