Dear Park Cities Presbyterian Church,
It is with great joy that we want to share with you some exciting news regarding the leadership of Family and Missions Ministries at PCPC.
---
FAMILY MINISTRIES
Towards the end of 2021, our Session charged a nine-person search committee to identify and recommend candidates for the following positions: Pastor to Families and Senior Director of Family Ministries.
These positions were created to provide leadership to this significant ministry within our church and to equip our families to bring up the next generation in the nurture and admonition of the Lord. Our desire is that the families of PCPC would orient their lives around the family of God and prioritize their union with the body of Christ above all other affiliations in this world. As such, this committee, under the oversight of the Session, prayerfully sought the Lord in this effort to identify these leaders; and after a six-month nationwide search, we are excited to announce these two new leaders on our family ministries team.
Pete Hatton: Pastor to Families
Katherine Steinbrueck: Senior Director of Family Ministries
As the Pastor to Families, Pete will be focused on discipling parents and equipping them to develop gospel-centered homes as they disciple their children. In her capacity as Sr. Director of Family Ministries, Katherine will be tasked with leading our incredible staff in the implementation of the Spiritual Formation goals that our Session has approved for Children and Youth Ministries. Pete and Katherine will work hand-in-hand in this effort to encourage our families to Connect to Christ, Abide in Christ, and Extend the transforming presence of Christ to a lost world. After a Summer of transition, Pete and Katherine will join the team as the school year begins. We look forward to welcoming them both very soon and are eager to see how the Lord blesses the families of PCPC through their leadership.
Pete Hatton | Pastor to Families
Pete comes to PCPC from Redeemer Church in Edmond, Oklahoma, where he has served as the Senior Pastor since 2009. Prior to Redeemer Church, Pete was the Campus Minister for RUF at Baylor University from 2002 to 2009, where he helped mentor and shepherd many current PCPC members. He formerly held roles at Redeemer Presbyterian Church in Waco and Trinity Christian Academy in Addison.
Pete's wife Kristen is a Christian author and counselor, whom Pete calls "his greatest asset, supporter, and companion." Pete has 3 adult children: Rebecca (married to Jed Spurgeon), David, and Jonathan. Pete will join us full-time in September after he and Kristen get their youngest son off to the University of Arkansas.
In his role as the Pastor to Families, Pete will focus his time on four main areas:
Walking with families through seasons of both joy and suffering while raising their children
Ensuring that we meet our Christian Formation objectives and uphold church doctrine throughout our Children's and Youth ministry areas
Engaging with families on Sunday mornings to welcome families, children, youth, and visitors
Working with the new Senior Director of Family Ministries to cast vision and help execute the day-to-day operations of our Nursery, Pre-School, Elementary, Middle School, and High School ministries
Katherine Steinbrueck | Senior Director of Family Ministries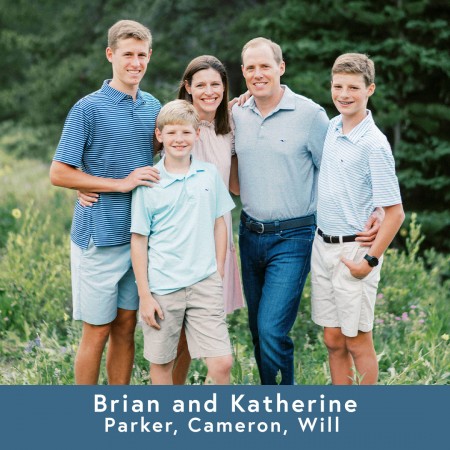 Katherine has been a member of PCPC since 2014 and has held many leadership roles across the church, including teaching Sunday School for Pre-K and Elementary, leading a Thursday Morning Bible Study small group, and serving on various committees. Before moving to Dallas, Katherine worked at Christ the King Presbyterian Church in Houston as the Female Youth Ministry Lead and Assistant to the Youth Pastor.
In the community, Katherine has served as President of the St. Mark's Parents' Association and also as a member of the St. Mark's Board of Trustees. Katherine and her husband Brian have 3 sons: Parker (16), Will (14), and Cameron (12) who have all grown up at PCPC.
In her role, Katherine will be responsible for 3 main areas:
Leading the Family Ministry team: the Ministry Leaders of Nursery, Preschool, Elementary, Middle School, High School, Female Discipleship, and VBS & Special Events
Implementing a Family Ministry strategy to execute the Christian Formation goals for PCPC's children and youth
Working with the Family Committee to maintain an active Sunday presence throughout our Family Ministries
---
MISSIONS
Sam Leopold | Pastor of Missions
Sam comes to PCPC from a 14-year tenure with Cru, serving most recently in New York City as a chaplain and Faculty Commons minister at New York University while leading Cru's efforts at Manhattan and The Bronx campuses. Prior to Cru in New York, Sam served as an overseas missionary in Rome, Italy, with Agape Italia (Cru in Italy) and helped launch student movements across the country. He completed his theological education at Reformed Theological Seminary in New York City and pastoral ministry training at Redeemer Presbyterian Church's City to City training program.
Sam's wife, Kimberly, was born in Dallas but grew up in Knoxville, TN, and attended Miami University in Ohio, where Kimberly and Sam met. Kimberly is currently on staff with Cru's Family Life and will be transitioning her work to Dallas, sharing Christ through the context of parenting and marriage. God has been faithful to draw the Leopolds together while calling them both to ministry, and they love serving together as a team. Sam and Kimberly have three daughters: Eloise (8), Evelyn (7), and Emory (2). As a family, they love road trips, exploring new places, playing games, and finding the best pizza place in town!
As Pastor of Missions, Sam will serve PCPC and our mission to extend the Kingdom of Jesus Christ in four primary ways:
Giving leadership, direction, and staff oversight to PCPC Missions Ministries including World Missions, City Missions, and Church Planting.
Caring for and partnering with PCPC Missionaries and Ministry Partners.
Mobilizing our congregation to engage and serve in PCPC Missions Ministries.
Equipping our members for evangelism.
Sam will also be working this fall with the North Texas Presbytery to complete his ordination process, as he transitions from the mission field to this pastoral role. We welcome Sam to our church staff and look forward to his leadership in our Extend ministries.
Please join us in welcoming Pete, Katherine, and Sam to their new roles!