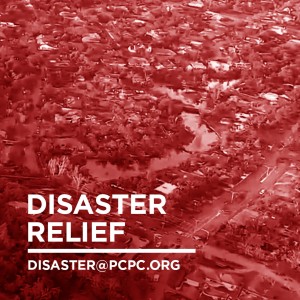 Affected by the storm?
Please let us know if your home was affected, or even worse, if you were injured. Email disaster@pcpc.org. We want to pray for you and seek ways to help as needed.
Interested in serving?
If you are interested in serving those who were affected by this weekend's storms. Please sign up below to show your interest in serving those in need.
---
Updates
[October 24, 2019]
PCPC Family,
Thank you for the tremendous support you have provided the Disaster Relief Team in the last 72 hours. By God's grace, the response has been truly overwhelming— our church body, staff, and leadership joined together beautifully. The amazing work has been done quickly, which has been very critical.
Everyone that has reached out for needs via "disaster@pcpc.org" has been contacted, and care teams have been formed around those families. Further, we have joined in with all of Northway Church's efforts over the last 72 hours by sending crews of folks to their church as well as mobilizing all of the resources we have at the MNA Dallas Depot (Disaster Center). Northway, having completely lost their church structures to the tornado, has been truly blessed and overwhelmed by the outpouring of support and resources from the CHURCH!
Our Disaster Relief Team has been in the neighborhood daily, and now, in consultation with Northway's efforts, we have determined at this stage the best thing we can do in the immediate term is allow the professional work of removing debris and restoring power to take place without congestion interference. There WILL BE continued needs in the coming weeks, but with streets closed and many still impassable, too many volunteers and cars in the affected area will do more harm than good.
We continue to monitor the needs of PCPC families in the area, and the neighborhood at large, and will be calling on volunteers to come alongside those families as needs arise. If you live in the affected area (generally Care Cluster #5) and require assistance or you hear of anyone who needs assistance, PLEASE continue to let us know by sending an email to "disaster@PCPC.org." As the Disaster Relief Team assesses intermediate-term needs over the coming weeks, we will keep everyone apprised of how and where the hands and feet of Christ can help. The needs are great, and the work that will be required is significant, so there will definitely be opportunities where we will request your help to serve and to EXTEND the love of Christ in the midst of this disaster. Please be on the lookout for further communication in the coming weeks.
PCPC Family: please continue to pray for all of the workers, affected families, and our brothers and sisters at Northway Church as they seek to rebuild and pray that through this disaster, God would be glorified.
---
[October 24, 2019]
We want to thank all who gave of their time, talent, and treasure to serve those who experienced loss this past week due to the storms. Please continue to pray for those involved in the clean-up and for the families who are dealing with the loss of home and business.
We know of 10 PCPC families who sustained damage to their homes, but we expect there are more. We are grateful for the 30+ volunteers that served this week.
---
[October 22, 2019]
As you know, our city was hit hard with storms and tornados this past Sunday evening. Reports are coming in with damage sustained to homes, businesses, and trees throughout Dallas and Richardson, but by God's grace, we have not heard of loss of life. However, due to the severity of Sunday night's storm/tornado, Northway Church (3877 Walnut Hill Lane), formerly the Village Church - Dallas Northway, sustained major damage and has lost the use of their facility. Further, the neighborhood around Northway Church, which contains PCPC Care Cluster #5, also suffered major damage, including the homes of several of our members in that area.
With our communications yesterday making the congregation aware of our disaster@pcpc.org email, many of you have asked how you can help. We are in the process of assessing the needs of our body, and further communications will be forthcoming on how you can assist. In the interim, as part of continuing our EXTEND efforts and partnerships what we can all do immediately this week is assist our brothers and sisters at Northway and the surrounding neighborhoods. Northway is conducting neighborhood cleanup efforts in the area immediately surrounding their church today (October 22nd) and tomorrow (October 23rd) and the details are below.
Immediate Needs: Individuals and teams that can knock on doors in the neighborhood and help to remove debris, cut and remove trees, pick up trash, etc.
When: Tues. & Wed. Oct 22-23
9:00 a.m. – 6:00 p.m.
Help is welcome throughout the day and you can come and go as you have availability to assist.
Where: Meet at the Northway Church building (3877 Walnut Hill Lane). It is recommended to arrive using Marsh Lane due to road blockage along Walnut Hill. Park on the street and you will see a 'hospitality table.' From the church, small groups will break out to survey needs, and begin to clean up and to love on our neighbors.
What to Bring: Chainsaws, rakes, brooms, trash bags. Wear closed-toed shoes and bring work gloves and protective eyewear. Bottled water is also helpful—due to the downed trees and lack of power, residents are unable to easily get out of their homes and bottled water is needed.
Contact: If you have questions, you may contact disaster@pcpc.org.
The Disaster Relief Team is deeply encouraged and grateful for the hearts of our PCPC body to love and serve our neighbors, and you will see further communications about opportunities to assist in the coming days. Please continue to pray for the Lord's provision and protection for our brothers and sisters in North Dallas and throughout the city who have been affected by the tornados, and would the Lord use us to EXTEND the transforming presence of Jesus Christ to those neighbors.