Global Missions Conference
---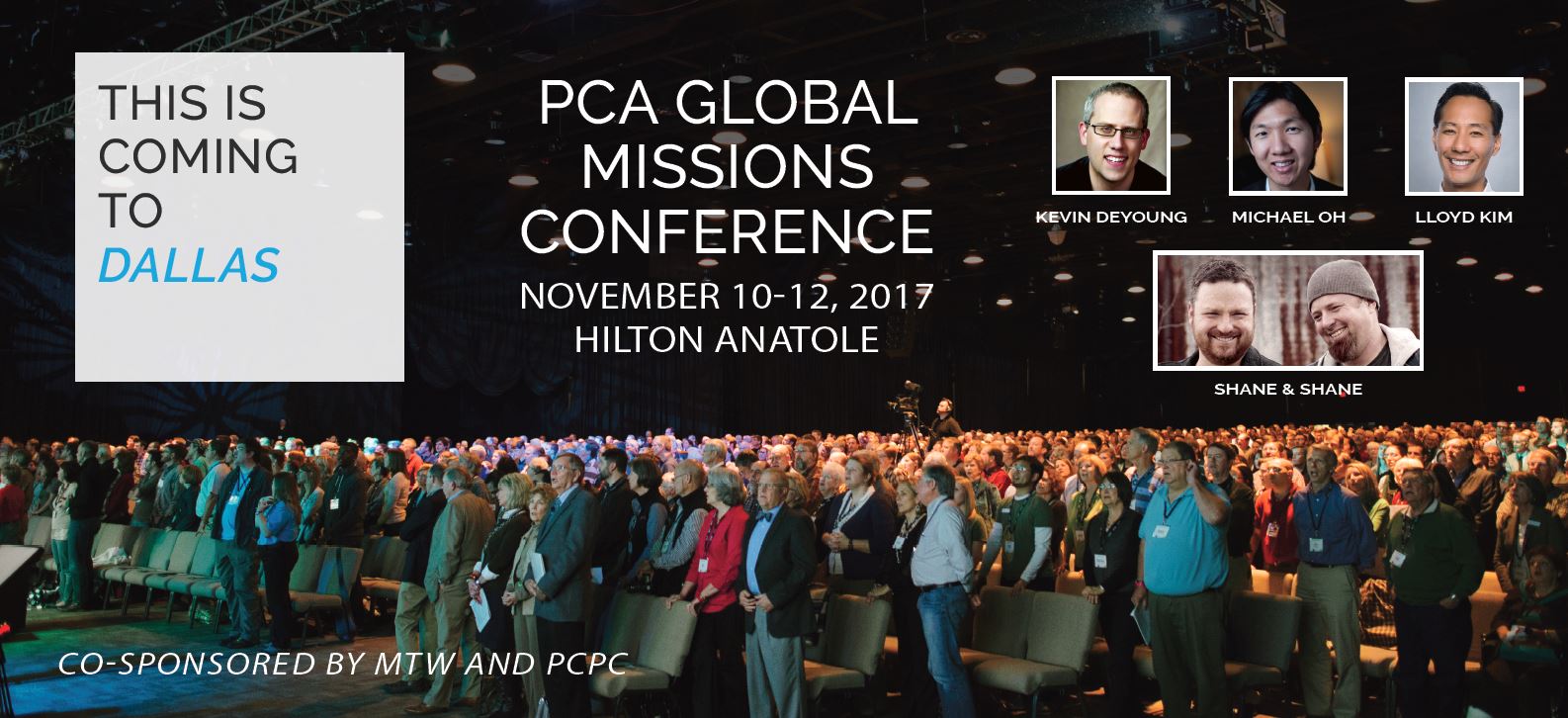 Big News!
PCPC is honored to co-host the PCA Global Missions Conference coming November 10-12, 2017. Due to the large number of people attending, the conference will take place at the Hilton Anatole Dallas.
Check back here often for updates!
PCA Global Missions Conference
November 10-12, 2017
Hilton Anatole Dallas
PCPC Registration deadline is October 25!
---
---
What can I expect from the conference?
Worship and fellowship with thousands of people from all over the world and the U.S.
Dependent and expectant prayer.
God-exalting, Gospel-saturated preaching from Kevin DeYoung, Michael Oh, and Lloyd Kim (bios here).
A night of Prayer and Praise with Shane and Shane.
Over 80 seminars (listed here).
The presence of the Holy Spirit.
Stories of God's power and grace that every Christian needs to hear.
To learn how your unique gifts can be used by God. 
---
How much does it cost?
Special PCPC discounts are available until October 25!
PCPC Individual Rate: $100
PCPC Student Rate: $50
PCPC Family (4+ individuals) Rate: Capped at $250
Registration includes lunch and dinner on Saturday, entrance to general sessions, seminars, exhibits, and a Shane and Shane prayer and praise session on Saturday night.
Regular conference rates are (until Oct 25):
General - $219
Groups - $199
Student - $99
---
How do I register?
The special PCPC discount codes for registration are good through October 25!
Contact

[email protected]

for the discount code before you register!
Go to mtw.org/gmc if you wish to register without a PCPC discount.
---
Welcoming the Refugee Pre-Conference


Join us at the Anatole November 9-10 to gain a biblical understanding of the global refugee situation with featured speaker Matthew Soerens of World Relief, then dig deeper in breakout sessions on topics such as:
Opportunities for ministry in Europe
Incarnational living among refugees in the U.S.
Learn a model of outreach from For the Nations, which includes the gospel, education, and acculturation
Hear stories of outreach to Middle Eastern refuges from as far away as Bangkok
Spots are limited! Register today! It is $99 to register for the pre-conference which includes entrance to large group sessions, seminars, and a boxed lunch on Saturday. Unfortunately, there are no discount rates for the pre-conference.
Click here to register and to find out more about the pre-conference schedule, seminar topics, speaker bios, and much more.
---
Hotel information
We encourage everyone who is able to stay at the Anatole during this special weekend! You'll receive a special rate, available through October 18, 2017, or until space fills.
$132 per night (1-2 people)
$20 each additional person
Breakfast included!
For more hotel information and to book visit this page.
---
Childcare Information
Start planning now for childcare during the GMC so that you can get the most out of the weekend! While there is no childcare onsite at the Anatole, there are several options for you to consider:
• Ask a family member to watch your kids for the weekend, and make it a weekend getaway at the Hilton Anatole!
• Partner up with another PCPC family who is attending to share babysitters over the course of the weekend—friends are always more fun!
• Drop your kids off at Adventure Kids Playcare for hours of fun and entertainment that you don't have to organize!!! Adventure Kids Playcare is a unique drop-in childcare and entertainment center for kids ages 6 weeks to 12 years old. Your kids can play, explore, and learn while in our safe and secure environment. Adventure Kids is located at 5915 Forest Ln., Suite 330, Dallas, TX 75230. They are partnering with us to provide 25% off for those attending the Global Missions Conference. Reservations are needed to insure that there is a spot for your child, so please call (214) 295-5877 and mention that you are with the Global Missions Conference
• Bring your kids with you to the conference. There will be a special track for youth (middle and high school) and elementary aged kids are welcome to attend with their parents. There is also an outdoor green space located right outside the plenary hall if kids need to get their wiggles out.