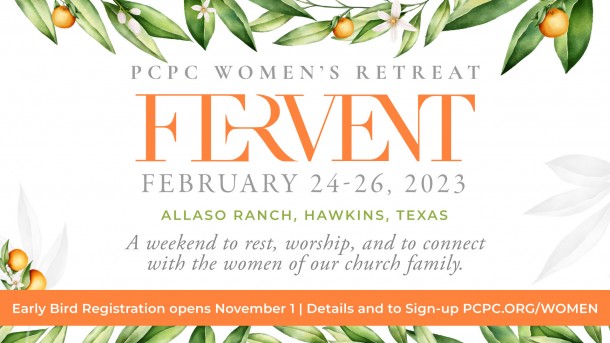 ---
Join us for a relaxing getaway with women from our church family. Enjoy worship, teaching, meals, and time with the Lord at the beautiful Allaso Ranch in Hawkins, Texas. Early-bird registration is $225 starting November 1 and $250 after November 30. If you must cancel your registration for any reason, you will receive a refund minus $50 until February 1st. After Feb. 1st, there are no refunds, and your registration fee will be given as a scholarship for someone else to attend the retreat.
Once registered, you will receive an email at a later date where you will specify your roommate requests. The cabins sleep 8 lower bunks. If you have friends you would like to be in your cabin, remind them to register! Please make sure all in your party have registered before submitting requests.
About our speaker…
Teaching topic:
Author and teacher Courtney Garrett will be our retreat speaker this year with three teaching sessions on Waiting with Hope. Courtney will help us uncover how a posture of confident expectation in the Lord can shape how we view our seasons of waiting, culminating in our patient longing for His return.
Bio:
Courtney Garrett received her Master of Arts degree in Christian Education from Dallas Theological Seminary. She served as the Director of Women's Discipleship at her home church, Grace Bible Church, in Houston, Texas for several years. She began her ministry, 101 Christianity, with a desire to aid seekers in building a foundation of basic Christian doctrine, and to mobilize believers to engage others with simple, accessible resources. She is the author of 101: Exploring the Basics of the Christian Faith and 101: Discovering the Character of God. For almost 20 years, Courtney has taught and encouraged women in the truth of God's Word. She is married to John and loves being the mom of two boys.
---
Preliminary Schedule:
Friday, February 24
5-6 p.m. Arrive
Dinner, worship, and teaching
Saturday, February 25
Come and go breakfast
Worship
Free time with the Lord
12:00 p.m. - Lunch
Relaxed afternoon together. We will have 3-4 options for activities that you can sign up for. (Examples: art class, guided walk, one-on-one prayer, horseback riding, card games, etc.)
6:00 p.m. Dinner, worship, and teaching
Sunday, February 26
8:00 a.m. - Breakfast
Worship, teaching, and communion
11:00 a.m. - Go home refreshed!