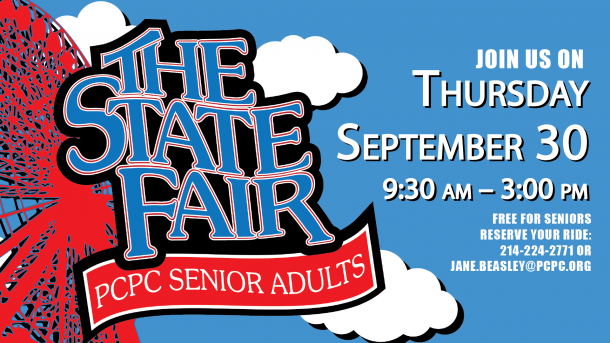 ---
Join us for a day at the Fair. Entrance is free for senior adults. Enjoy the Fair on your own schedule.
We will meet in the Oak Lawn West parking lot (across the street from the church), park our cars and board the vans. We want to leave by 10:00 a.m. so please be on board by 9:45 a.m. at the latest.
We will be dropped off at the gate and all may go in different directions while we are there. We will all meet again at the gate where we were dropped off at 2:30 p.m., board the vans, and return to the church parking lot by 3:00 p.m. Please bring your cell phone or plan to be with someone who has one in case of an emergency.
Please RSVP to jane.beasley@pcpc.org or 214-224-2771 to reserve a seat on the van. Bring a friend and let's have a great day at the State Fair of Texas!