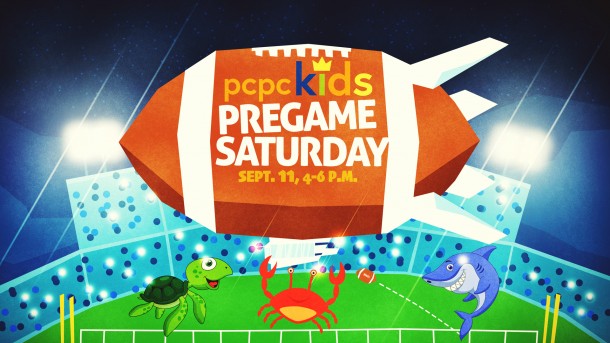 ---
Promotion Sunday is September 12! Join PCPC Children's Ministry in the New Gym for our Pregame Celebration on Saturday, September 11 from 4:00-5:00 p.m. for a sneak peak with Andy the Thematic Turtle, Billy the Bible Shark, and Clayton the Catechism Crab at all our fun upcoming events on the 2021/2022 Children's Ministry calendar. Thee Band will debut with a showcase of all our new tunes for the fall. We will top off the hour with Robby Higginbottom walking us through the Life of Christ in song as we preview our curriculum for this coming year. Registration for pizza has closed, but feel free to bring your own dinner.
On Promotion Sunday, children will be promoted to a new classroom for the next year and volunteers will begin their new yearly commitment in the Children's Ministry. If you have children, be expecting an email sometime during the week before September 12 with your child's "new classroom assignment". If you are a volunteer, you will receive communication about your volunteer room assignment for next year. As a note, children are promoted based on age; infants and crawlers are "promoted" once they start crawling or walking.
Volunteers are needed on Sunday mornings in the Children's Ministry at both hours (9:30 a.m. and 11:00 a.m.) to care for infants to 4th grade. Commitment is based on your availability. Any adult certified through our PCPC Safety System is able to serve.