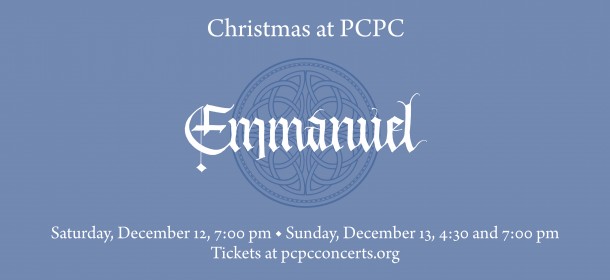 ---
PCPC's beloved candlelight Christmas concert features the adult choir with symphony orchestra, presenting carols and music of the season to celebrate the glory of Christmas.
Saturday, December 12, 7:00 p.m.Sunday, December 13, 4:30 & 7:00 p.m.
Admission is free, but a ticket is REQUIRED. Our initial release of tickets has sold out, and we are unable to manage a waitlist, but as tickets are returned, more become available from time to time. Please recheck pcpcconcerts.org periodically for ticket availability.
For parking information, please refer to the Parking Map.
We need volunteers to help with ushering! Volunteers are guaranteed a concert ticket.
During the concert, an offering will be taken to benefit local PCPC-supported ministries. Please come prepared to give!
During this COVID season, we are carefully following the advice of our medical advisory team, various scientific studies, and recommendations by governmental agencies. Choir members and wind instrumentalists will not wear facemasks while performing, but will be masked at all other times. All audience attendees are required to wear facemasks.
Due to distancing requirements, our capacity per concert has been significantly reduced. Please be judicious in your acquisition of tickets and immediately return any tickets that you find you are unable to use.
We regret that we are not able to offer childcare this year. Children are very welcome to attend, but please note the concert has many quiet moments and may prove challenging for young children. The final concert, on December 13 at 7:00 p.m., will be broadcast live via live stream.