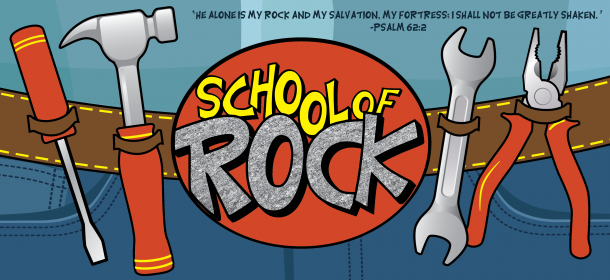 ---
Earlier this year, we announced that VBS would be "coming home" to PCPC's campus after having been away the past two summers. In light of Covid-19, it has been decided that PCPC will not host Vacation Bible School on campus. Instead, we are excited to EXTEND the "School of Rock" to families through Virtual VBS!
From June 9-12, a daily "School of Rock" video will be available on this page and through PCPC's YouTube channel. These videos will include a time of worship, a lesson with reinforcing skits and illustrations, messages from missionaries, and a corresponding craft project. Along with the daily videos, the following resources and serving opportunities are available to assist in hosting a successful and fun VBS and Backyard Bible Club.
---
SUPPLIES AND DECORATIONS
Use this document to find crafts needed, suggested decorations, and additional teaching tools.
---
MISSION PROJECT OPPORTUNITY
Help us support Casa del Lago!
Front-Porch Project for VBS Families
Amazon Wishlist for Casa del Lago
---
VBS 2020 TEACHING MANUAL
---
MISSION-GEARED ACTIVITIES
---
MUSIC
---
DAILY VIDEOS
These videos will be linked to PCPC's YouTube channel. Subscribe HERE and turn on notifications to be notified of the latest video!
---
WANT TO INVITE FRIENDS?
We'd love for you to invite friends, families, and neighbors to participate! Download the image below and post it to social media or attach it to an email. You can also download a printable version to stick in mailboxes. Use the white space on the invitation to write a personal note and your address!
VBS 2020 Printable Invitations

(right-click to download Social Media image)