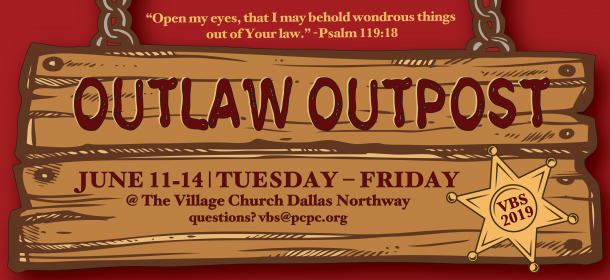 ---
The Round-Up for Children Participants and Youth Volunteers at the Outlaw Outpost has reached capacity!
Due to an abundance of registrants, we regret that we cannot accept any more children or youth volunteers into the 2019 VBS program. We are deeply humbled by our community's response to PCPC's 2019 Vacation Bible School!
Please contact Heather Squibb at heather.squibb@pcpc.org  for all registration questions.
---
Due to the continued construction at PCPC, we are once again partnering with The Village Church – Dallas Northway Campus for Vacation Bible School! This continues to be a beautiful blessing for both PCPC and The Village Church; one that truly encompasses PCPC's EXTEND vision. We could not be more excited to collaborate with The Village Church – Dallas Northway for another special season of VBS!
In an effort to be good stewards of The Village Church's space and generosity, it has been determined that we will not be able to accommodate the vast number of VBS participants we have hosted at PCPC in the past. Similar to VBS 2018 at The Village Church, there will be a reduction not only in the number of children we can accept into our program, but also in the number of Adult and Youth Volunteers.
Initial registration will open on March 4th for ONLY members and long-standing VBS volunteers registering to serve as an Adult Volunteer (need to be onsite and able to serve all week) and their children/youth. PCPC, PPC, MPC, and TVC members are included in this priority registration period. Registered Adult Volunteers will be able to register their children to participate (birth through rising 4th grade) and their youth to serve (rising 5th through rising 8th). Please note that this is on a first-come, first-serve basis, and waitlists may need to be put in place at any point.
Once we are able to receive more children participants and youth volunteers, we will open the registration links for non-volunteering PCPC, PPC, MPC, and TVC members and long-standing PCPC VBS participants, followed a few weeks later with general, non-member registration.
Before being able to serve at VBS, ALL Adult Volunteers must have fully completed PCPC's Safety System, which includes Awareness Training (with a quiz), a cleared Criminal Background Check, and a fully executed and approved Volunteer Application form. Adult Volunteers lacking any portion of PCPC's Ministry Safe requirements will be given a generous timeframe in which to complete these items. Any children/youth participants of Adult Volunteers in this position will not be in jeopardy of losing placement during said timeframe.
It is our hope and prayer that you understand these special circumstances with which we are faced, that you will prayerfully consider your participation in VBS this year, and that you kindly honor the roll-out registration groupings as set forth above.
Please contact Barrett Ball at vbs@pcpc.org for general questions and Heather Squibb at heather.squibb@pcpc.org for registration questions.
"Open my eyes, that I may behold wondrous things out of your law."— Psalm 119:18
---
VBS Carpool Instructions