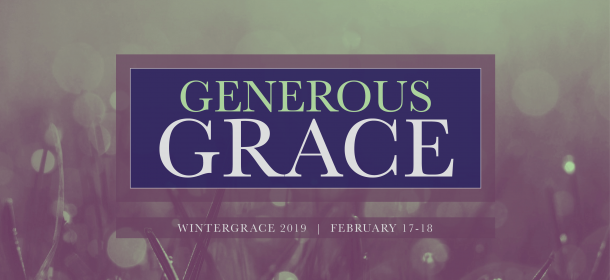 ---
On February 17-18, we will host WinterGrace 2019. It is a special time set aside to saturate ourselves in the love and grace of God. This year's theme is "Generous Grace." Through worship services on Sunday morning, evening, and Monday evening, we will explore our Lord's generosity and examine our life response in light of God's glorious grace.
His generosity and grace are central to our Christian faith: "For God so loved the world he gave…" Through WinterGrace, we will celebrate God's overwhelming grace and consider what our generous response might be through our time, talents, and treasure. We will seek the Lord's hand in softening our hearts to His work in our lives and discuss how we may find greater joy in pursuing lives of purpose.
Former Park Cities Presbyterian Church Pastor, Tim Tinsley will be our WinterGrace speaker for the February 17-18 services. Tim served as Associate Pastor at PCPC from 2001-2009 and now serves as Senior Pastor at First Presbyterian Church, Chattanooga, Tennessee.
What would it look like for us to live radically generous lives? How might our lives be a more genuine reflection of Christ that we might show others His grace in a new way? Don't miss WinterGrace 2019.
Sunday Morning - Services at 9:30 & 11:00 a.m.
Genesis 1:1-10 "Our Generous God: Creator and Redeemer"
Sunday Evening - Service at 5:30 p.m.
Philippians 4:10-20 "Our Generous God: Provider"
Monday Evening - Dinner at 5:30 p.m. (Fellowship Hall) and Service at 6:30 p.m.
1 Timothy 6:1-19 "Our Generous God: Set your hope on our Generous God who richly provides us with everything to enjoy"
The evening services do not require a ticket or reservation. (CHILDCARE REGISTRATION IS CLOSED)