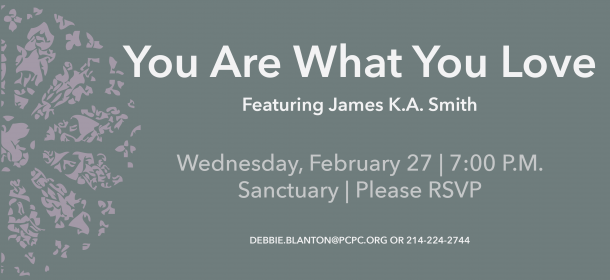 ---
What do you want? James K. A. Smith argues that this is the most fundamental question for Christian discipleship. In this Church in the City lecture, Smith will present a compelling case for worship as the central act for cultural renewal. You will be challenged to consider how culture has shaped you and be inspired by a vision for heart formation within the Christian community. Come and see.
---
Biography of James K.A. Smith
James K.A. Smith is editor-in-chief of Comment and teaches philosophy at Calvin College where he holds the Gary & Henrietta Byker Chair in Applied Reformed Theology and Worldview. His latest book is Awaiting the King: Reforming Public Theology (Baker Academic, 2017).
Working at the intersection of philosophy, theology, and cultural criticism, Smith is an award-winning author of a number of books including Who's Afraid of Postmodernism? (Baker Academic, 2006), Letters to a Young Calvinist (Brazos, 2010), Desiring the Kingdom: Worship, Worldview, and Cultural Formation (Baker Academic, 2009), Teaching and Christian Practices: Reshaping Faith and Learning, co-edited with David Smith (Eerdmans, 2011), Imagining the Kingdom: How Worship Works (Baker Academic, 2013), How (Not) to Be Secular: Reading Charles Taylor (Eerdmans, 2014), and You Are What You Love: The Spiritual Power of Habit (Brazos, 2016).
James and his wife, Deanna, are elementary school sweethearts and have four children. They live in the Heritage Hill neighborhood of Grand Rapids and attend Neland Avenue Christian Reformed Church.