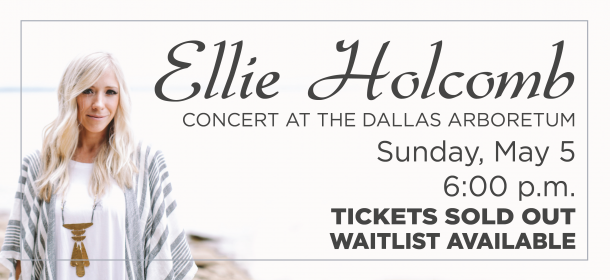 ---
Update:
With the expected good weather on Sunday for the concert, we are releasing additional tickets! - Tickets.
Grab your picnic supplies and bring the whole family out to the stunning landscape of the Dallas Arboretum for a performance by singer-songwriter Ellie Holcomb and her band. Steeped in God's word, her music proclaims His unending mercy and changeless love.
You are welcome to your own food and drinks, or visit one of the available food trucks: Bellatrino, Easy Slider, Empanada Cookhouse, and Steel City Pops. Seating is on the lawn, so bring a blanket or low camp chair.
Please use the Arboretum Parking Garage (Gate 4) across Garland Rd from the Arboretum. There is a well-lit underground tunnel to the Arboretum entrance, so you don't have to cross on the street.
Entry to the concert area opens at 6:00 p.m. and the concert itself will run 6:30-8:00 p.m. A ticket grants admission to the Martin Rutchik Concert Stage and Lawn area only. If you would like to visit the Arboretum prior to the concert, you will need to purchase tickets and parking separately from the Arboretum. They will close and clear the park at 5:00 p.m. and reopen for concert ticket holders at 6:00 p.m.
A free ticket is required for entry - Tickets.