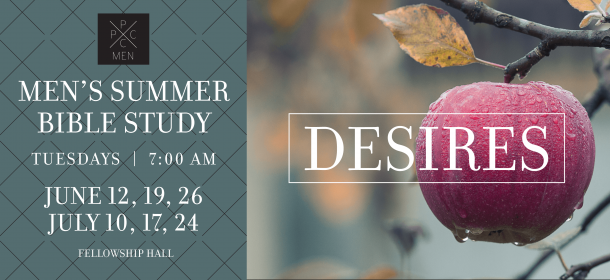 ---
Summer is here! Join us for our Tuesday Morning Men's Bible Study on Desires taught by Pat Hobin, James Madden, and Brent Baker. Donuts and coffee will be served.
In this study we will take an in depth look at what John calls "the desires of the flesh and the desires of the eyes and the pride of life." The word "desire" in Greek actually means in this context "desire for what is forbidden, lust." Please join with us in this study as we take a look at ourselves in light of this passage. Should be another great time in the word and around the table.
Please plan on joining in no matter how your summer schedule might affect your attendance. Table discussion and time of fellowship will still be a vital part of the morning time together. You don't want to miss any of that!
Do not love the world or the things in the world. If anyone loves the world, the love of the Father is not in him. For all that is in the world—the desires of the flesh and the desires of the eyes and pride of life—is not from the Father but is from the world. And the world is passing away along with its desires, but whoever does the will of God abides forever.
1 John 2:15-17
Listen to previous studies HERE.