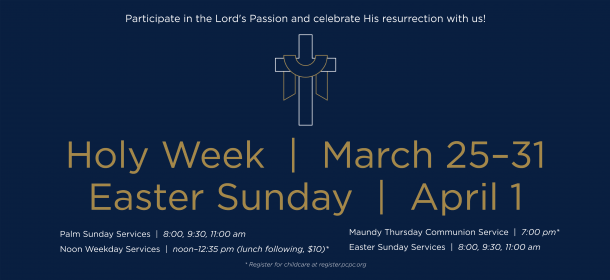 ---
Participate in the Lord's passion and celebrate His resurrection with us!
Weekday Services
noon–12:35 pm
(lunches following)
Maundy Thursday Communion Service
7:00–8:30 pm
EASTER Sunday Services:
8:00, 9:30, 11:00 am (identical services)
Nursery and Preschool classes meet at 9:30 am and 11:00 am.
Elementary classes are cancelled. Children are encouraged to join their parents in worship.
Easter Sunday Shuttle parking will run from the garage behind Zoe's to the church beginning 8:30 am. Shuttles will pick up from the church beginning 10:30 am and make round trips carrying passengers both from the church to the garage and from the parking garage to the church until 12:00 pm. At noon shuttles will be available to carry passengers back to their cars located in the garage. The shuttle service will cease at 1:00 pm sharp.
Child Care provided for 9:30 and 11:00 am Easter Sunday services.
Questions concerning childcare, please email childcare@pcpc.org.